Bachelor of Science (B.Sc.) is a four year program of Tribhuvan University. This program is conducted by Institute of science and technology. The program has been upgraded from 3 years course to 4 years course from 2012 in order to make it in line with the international universities practice. The total course is of 2000 marks. Students have to study core courses and scientific communication in first year, core course and applied statistics in second year. In third year, apart from core courses of respective discipline, students have to study research methodology and electives subject. In elective courses, students have to choose any two subjects from respective subject pool. Fourth year consists of core courses, project work/ field work, computational courses and interdisciplinary courses. Fourth year is research oriented for providing knowledge, ideas and acquaintance to the students in the field of research. The core course is divided into theory and practical which is of 100 and 50 marks respectively. Bachelor of Science envisions producing highly qualified undergraduates having strong foundation in the different discipline of science and technology.
Objective
The objectives of B.Sc. are as follows:
To make students well acquainted in the latest ideas, knowledge, Invention and the practices in the theoretical and practical aspects of science and technology.
To familiarize and give direction to students in the research and project works and make them understand its importance and applicability in the field of science.
To generate passion and interest in the students regarding the further study and continuous learning activities in the field of science and technology.
To provide strong foundation for students to pass the postgraduate level entrance exam and develop efficiency to get employment at national and international level.
Admission Requirements
Eligibility:
The candidate must have completed 10+2 or equivalent examinations (with Biological Stream) with Minimum 'C' grade in all subjects to be eligible for admission in Bachelor of Science (B.Sc) Genral program of Tribhuvan University.
Students should meet the specific criteria for the concerned subjects.
Admission criteria:
Students should pass the entrance exam of their respective subjects taken by IoST.
The entrance exam is of two hours.
Separate entrance exam is taken for physical and bio group in separate time.
The merit list is published then after.
Course Structure: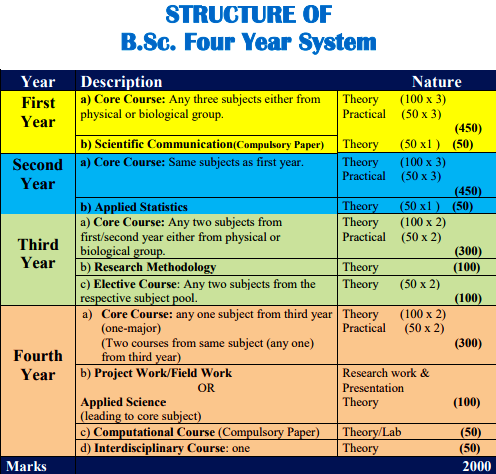 BSC Syllabus: