MA (Sociology)
Sociology has been established as a prominent social science branch under T.U. As member of social science, it encompasses the aspect like human evolution, Human Behavior,social institutions, social structure, social conflict and cultural complex of various societies in the world. In dealing with these aspects, Sociology/Anthropology makes holistic approach and no other members of this domain have contributed in such a manner.
The course Sociology offers altogether 18 papers and a compulsory thesis in fourth semester. Out of them there are 14 compulsory papers from first to fourth semester. The student may opt for three optional courses in the third and one in the fourth semester.
Objectives
The objective of these courses is to impart up-to-date knowledge of the theories and methods of sociology to the students along with training in field-work and secondary data analysis. The second objective is to provide skilled human resource for Nepal development needs. The third objective is to inculcate in the students the spirit of human rights and social justice. Thus the overall objective is to develop professional skill, in both theory and research, in sociology in the students of this discipline at a par with those of other countries.
Duration of the Course and Examinations
The duration of the course is of two years with four semesters. There is an university examination, in each six months, at the end of each semester. Eighty percent of the attendance in the class is compulsory. 
Admission criteria
An applicant seeking admission to M.A. Sociology must appear in an Entrance Examination of one hour's duration conducted by the Office of the Dean, Faculty of Humanities and Social Sciences, Tribhuvan University.
The applicant who fails to appear in the Entrance Examination or to obtain a minimum qualifying score will not be given admission. Admission of the students will be based strictly on the merit list and on the enrolment capacity of the Central Department of Sociology/Campus.
Evaluation
Evaluation will be on the basis of 40 percent internal and 60 percent external. Forty percent internal evaluation will be done by the department/faculty on the basis of the following criteria:
A. Class attendance 10 marks
B. Class participation, discussion and presentation with précis 10 marks
C. Term paper writing 10 marks
D. Class test (writing) 10 marks
The 60 percent external evaluation will be done by the Dean's office on the basis of final written examination. However, in case of practical courses 60 percent external will also be done practically in computer lab.
Eligibility
A student holding a Bachelor degree in any of the following subjects recognized by Tribhuvan University is considered eligible to apply for admission.
Sociology; Anthropology; Social Work; Nepalese History, Culture and Archaeology; Psychology; history; Home Science; Geography; Economics; and Political Science
Any discipline from faculty of education, management and law
Any discipline from institute of medicine, engineering, forestry, agriculture and animal science
Job prospects
Career: Sociologists
Sociologists study people and the behavior within the social groups that they form. They also study social institutions such as religion and law. You'll also examine the problems, from family arguments at the dinner table to violent crime, that occur within groups. Your research might be used by governments and organizations that help people live and work together better.
Many sociologists find work in related fields that require similar skills, such as social services, education, and public policy. For the best opportunities, build skills in statistics and research and learn about applied sociology — that is, how sociology can be used to solve practical problems.
Curricular structure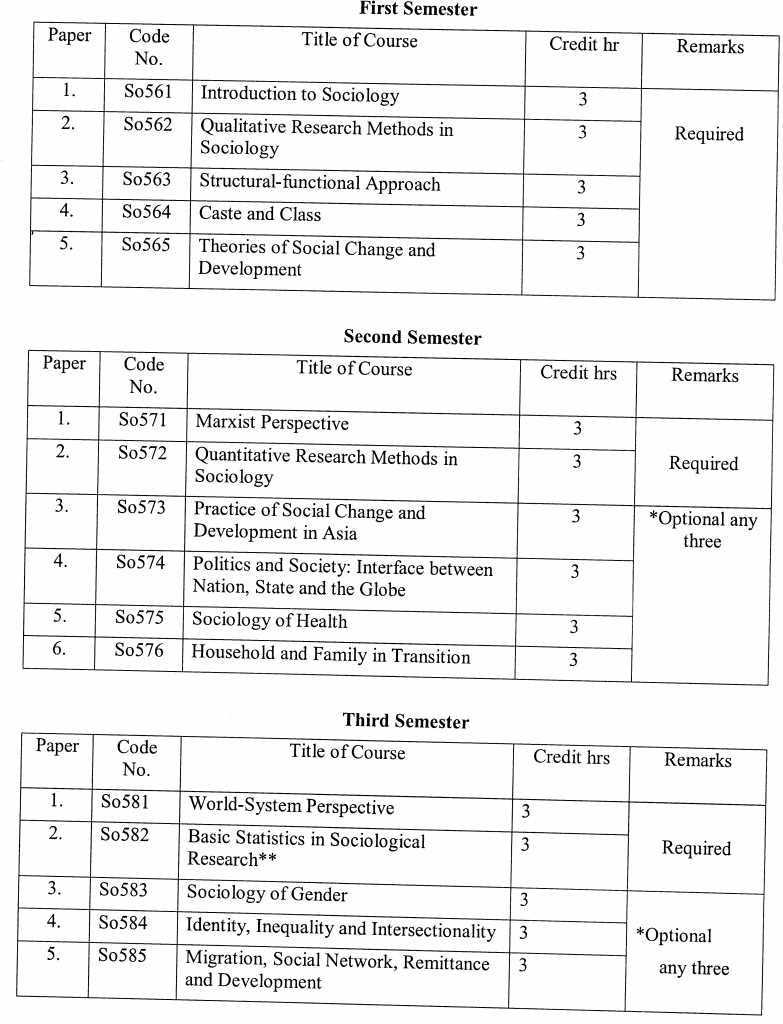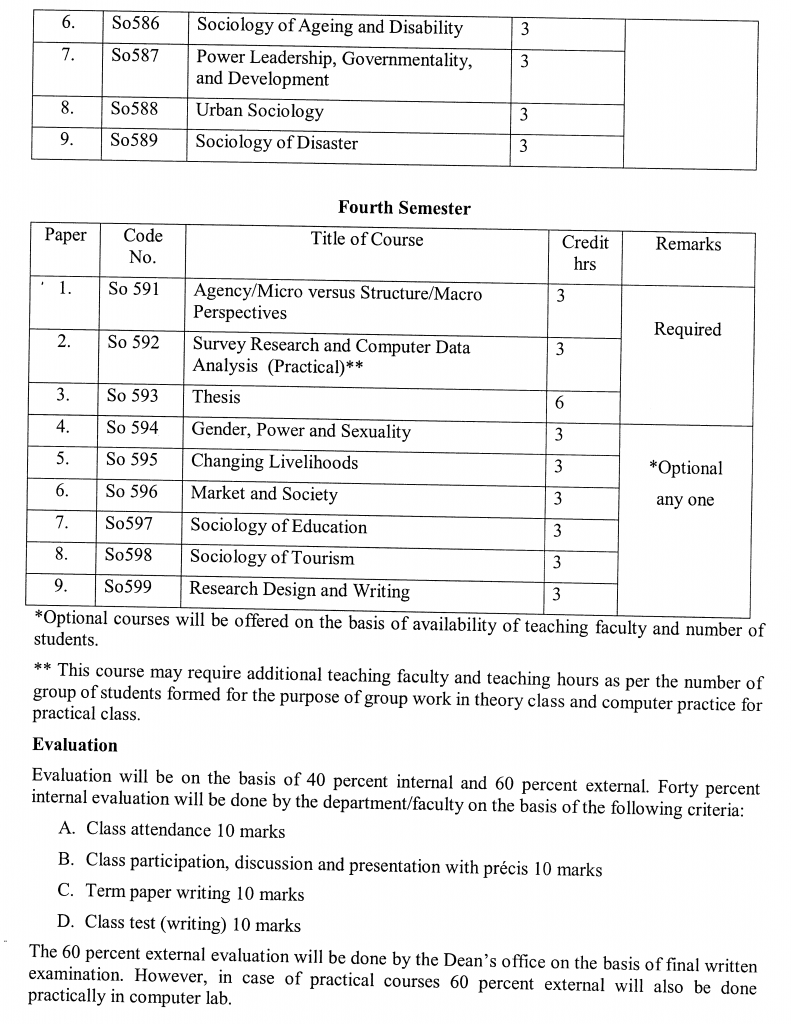 MA (English)
English is the major international language of every discipline, its value is increasing day by day. English majors are regarded as superior thinkers and team players all over the world, who tend to achieve well-paying careers and kudos.
The M.A. English courses offer students insight into literature, language, culture, and history. Besides studying required core courses that reflect the nature of the discipline, students will have the flexibility of selecting courses from different areas such as language, literature, rhetoric and humanities. While retaining the fundamental philosophy of humanities education—cultivation of humanistic values and critical thinking—this syllabus aims at developing students' creative, critical, and communicative skills that they need in their academic and professional life. Focus on writing, intensive study of literary genres, emphasis on interpretive and cultural theories, and the incorporation of interdisciplinary and comparative study are some of the underlying features of the courses. The syllabus requires a participatory and inquiry-based pedagogy for effective teaching and learning.
The course seeks to:
develop linkage between the B. A. English syllabus and the M. Phil. syllabus,
apply traditional and modern literary theories while reading and teaching literary texts, train students to use English for effective communication,
help students produce creative and critical writing, sharpen students creative and critical thinking,
cater to students' need of gaining knowledge of literature and ideas, provide flexibility to the teachers in developing courses of their interests,
develop courses that emphasize close reading and relationship among form, content and context, ensure application of critical theories in the interpretation of texts, and
adopt interdisciplinary methods and approaches, and
enable students to comprehend and respond to issues and problems.
Objectives
The syllabus reflects the current trends in English Studies that have radically expanded the scope of the discipline. Taking into account the curriculum models adopted in many universities across the world, it recognizes and draws upon multiple traditions, communities, and literature. The syllabus, therefore, comprises of a productive mix of canonical and non-canonical texts, traditionally-recognized literary and semi-literary genres, and expressive artifacts from multiple cultural traditions. The goal is to enable students to read, interpret and critique texts in a wide range of modes, genres and media. The syllabus, hence, envisions the following general objectives:
to realign the canons and methods,
to stress interrelationship among literary criticism, theory and cultural studies, to foster critical and creative thinking,
to promote research in the humanities,
to give exposure to a wide range of global literary texts, and to introduce area studies.
Program Policies
Attendance: Six hours of absences in a course constitute grounds for failure in the course.
Plagiarism: Plagiarism refers to the appropriation of another's work and the unacknowledged submission or incorporation of that work as one's own offered for credit. Appropriation includes quoting or paraphrasing of another's work without giving credit thereof. In case of plagiarism, students will be penalized. Depending on the severity of the case, punishment may range from failing the assignment to expulsion from the program.

Research and Thesis
In the fourth semester, students will have an opportunity to opt for a thesis, worth 3 credits. In order to meet the thesis requirement, students will have to submit 1) Review of Literature relevant to the research topic (10-15 pages in length) and 2) a well-researched paper (20-25 pages in length) that engages with the existing scholarship and presents a persuasive argument on issues related to language, literature, culture, and/ or theory. Candidates also will have to go through an oral examination (viva voce) and defend their positions. The oral examination will consist of 25% of the total thesis grade.
Evaluation Scheme and Examinations
Course outcomes will be evaluated through a continuous internal evaluation system and end-of-semester final examinations.
Internal (continuous) Evaluation: Except for the writing-intensive courses, the internal continuous evaluation for each course comprises of 40% of the total grade, distributed as follows:
| | |
| --- | --- |
| One research essay of 5-7 pages (double-spaced) | 50% of Internal Grade |
| Mid-term examination | 30% of Internal Grade |
| Presentation, attendance, participation, reading quizzes, etc. | 20% of Internal Grade |
Final Examinations: There will be final examinations for each course at the end of the semester, and they carry 60% of the total grade.
Grading System
Each course carries 3 credits with 48 teaching hours, spread over 16 weeks. The final grade for each course will be reported in a letter grade, indicated by the letters A, A-, B+, B, B-, and F. To pass a course, students must receive a B grade. The Cumulative Grade Point will be calculated on the scale of 4 as indicated below.
| | | | |
| --- | --- | --- | --- |
| Letter Grades | Grade Points | Equivalent Nume rical Grade Points | Performance Remarks |
| A | 4.0 | 90 and above | Distinction |
| A – | 3.7 | 80-89.9 | Very good |
| B+ | 3.3 | 70-79.9 | First Division |
| B | 3.0 | 60-69.9 | Second Division |
| B – | 2.7 | 50-59.9 | Pass in individual subject |
| F | 0 | below 50 | Fail |
Eligibility
Students holding a bachelor's degree in English from any university recognized by Tribhuvan University shall be considered eligible to apply for admission to M.A. English program. An applicant seeking admission must take Entrance Examination as required by the Dean's Office, Faculty of Humanities and Social Sciences. Admissions will be based strictly on merit.
Course Structure and Teaching Program
In order for students to be awarded MA degree in English, they will have to successfully complete 20 courses, each carrying 3 credits. The courses will be offered over 4 semesters. The syllabus consists of courses, grouped under ―required‖ and ―electives.‖ While courses grouped under ―required‖ are compulsory, students will have the flexibility of selecting courses from the ―elective‖ groups. Each semester, students will have to complete 5 courses, worth 15 credits.
Course Offered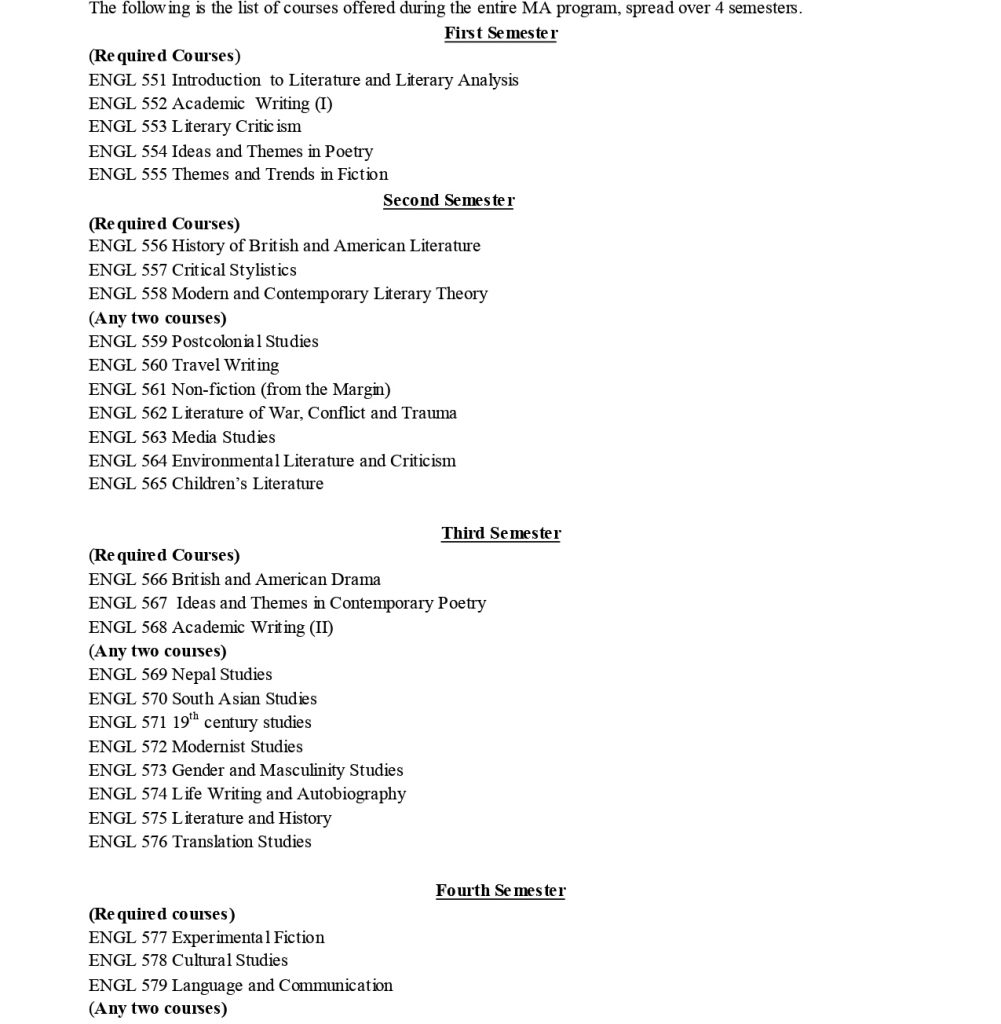 Syllabus:
MA (Sociology): https://mmchetauda.edu.np/downloads/ma-sociology/
MA (English): https://mmchetauda.edu.np/downloads/ma-english/